The quality of the work of the Swedish-Kenyan artist Catherine Anyango Grünewald captivated the judges of the second edition of Navigator Art on Paper, the world's largest prize for art on paper.
"I'm very interested in the potential properties of pencil and paper to conveying sensitive and complex themes, and also the relationship between materials and meaning." she said about her work, adding: "At some point in our lives, most of us have used pencil and paper as a form of self-expression, for taking notes or sketching. That's how we learn. I hope that the use of materials that are democratic and everyday can offer viewers a way into difficult topics."
Artistic quality, creative use of paper and an original poetic language that talks about our times were some of the reasons cited for the final decision of the jury.
The Navigator Company and Expresso then organised a public exhibition at the Sociedade Nacional de Belas Artes with a selection of work by Catherine Anyango Grünewald and the other four finalists: Abu Bakarr Mansaray, Andrea Bowers, Maria Berrio and Mateo López.
CATHERINE ANYANGO GRÜNEWALD
She was born in Nairobi (Kenya), in 1982. Lives and works in Stockholm (Sweden). One of the central themes in her work is public space and how it is affected by traumatic events; how the same place can also be symbolic of the systemic, historical and economic oppression of marginalised groups.
She has chosen to work mostly in charcoal on paper, because of the democratic nature of the medium, which is commonly used, in particular outside the art world.
Her drawings seek to rewrite stories and events in order to uncover invisible structures of power and violence. She taught for ten years at the Royal College of Art, in London, and currently teaches at Konstfack University of Arts, Crafts and Design, in Stockholm.
"She's a very creative artist. She draws in graphite, but also uses paper, tearing and erasing." – Claire Gilman, the judge who nominated her.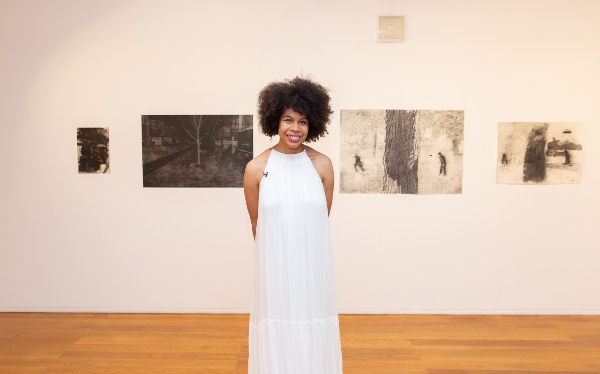 The other finalists
After analysing the portfolios of the 15 nominees of the jury, a selection of five finalists was made, among which the winner was decided.
Meet the other four.
ANDREA BOWERS
She was born in Wilmington (USA) in 1965. Lives and works in Los Angeles (USA). She's a feminist and activist whose work deals with contemporary political issues, who uses protest, the quest for justice and civil disobedience as tools in her artistic practice. She uses aesthetics as a way of gaining visibility for topics that range from women's rights to climate justice, from immigration to labour relations. Her photorealistic drawings, many depicting marches, are intimate tributes to the anonymous and individual voices of those defending disobedience, civic protects and the struggle for rights for all.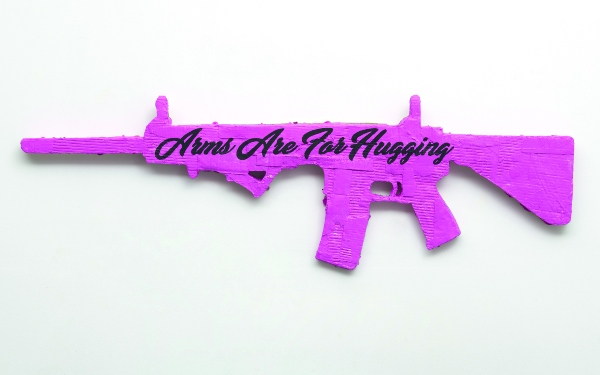 "She's a very challenging artist, who uses paper with a strong ideological component." – Nimfa Bisbe Molin, the judge who nominated her
ABU BAKARR MANSARAY
He was born in Tongo (Sierra Leone), in 1970. Lives and works in Freetown (Sierra Leone). The civil war that broke out in his country, in 1991, has had a great influence on his work. He designs complex futuristic machines and mechanisms, that evoke animals and aliens. This aesthetic based on science fiction is the essence of Afrofuturism, in which science fiction is closely linked to everyday life in Africa and to technological culture. He produces drawings that look like the plans and diagrams for new machines he has invented. These pieces are created on a large scale with graphite, ball point and colour pencils, and awaken an unusual sense of curiosity in the viewer.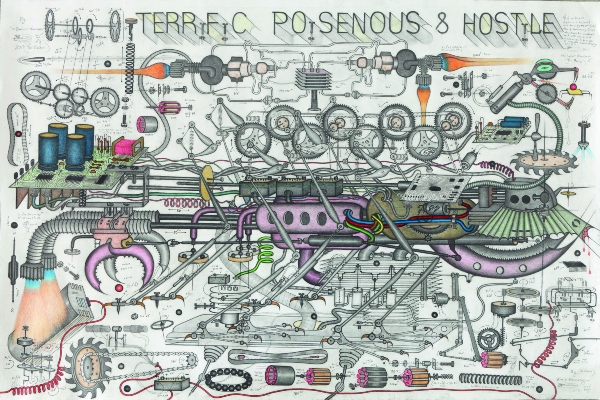 ""He's a kind of artisan of drawing on paper." – Jacob Fabricius, the judge who nominated him
MARIA BERRIO
She was born in Bogotá (Colombia), in 1982. Lives and works in New York (USA). Her large collages, created by painstakingly choosing paper from different sources, explore the diversity of colours and textures. Constructing surreal narratives, her works are inspired by South American mythology and folklore, and by her own life story. The collages mostly portray female figures, which the artist describes as "strong, vulnerable and brave women, in harmony with themselves and with nature".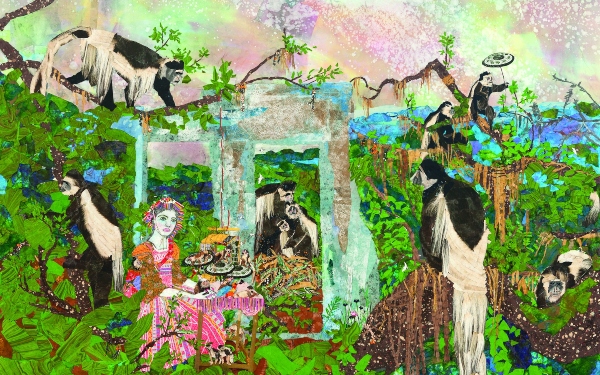 "Her work, based on watercolours and collage, is a kind of manipulation of paper." – Claire Gilman, the judge who nominated her
MATEO LÓPEZ
He was born in Bogotá (Colombia), in 1978. Lives and works in New York (United States). His work lies within what can be called the expanded practice of drawing. There is an almost scientific attitude in the drawings, which aspire to hyperrealism and contain an element of theatricality.  Recently, he has exhibited three-dimensional drawings, to be explored physically either by the visitors' own bodies or else through performances of gestures and movements choreographed with precision by professional dancers. More than an artistic medium, López sees drawing as a tool for inhabiting the world.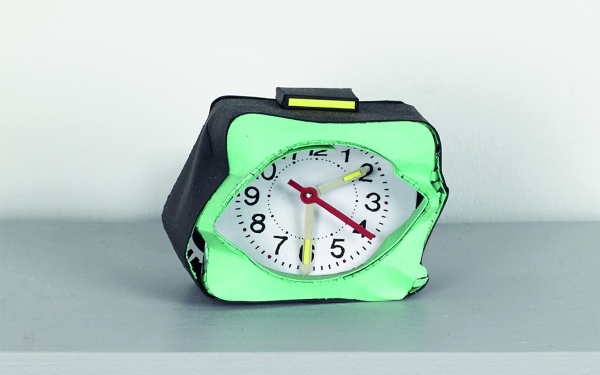 "His work in paper is of great artistic quality, and speaks to us of our times." – María Inés Rodriguez, the judge who nominated him
The other nominees
Each member of the jury nominated three artists, totalling 15 competitors. Meet the ten who did not make it to finalists.
ANE METTE HOL – Norway
Her work is characterised by precision, detail and illusion, in which the concepts of original and copy are central themes. Free of any expressionist traits and the artist's "hand", her works conceal their true materiality, and at first sight her drawings of objects can be confused with the objects themselves, looking instead like ready-mades.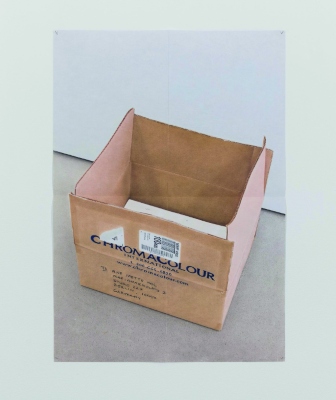 ELIJAH BURGHER – United States
Using figurative portraits or drawings of abstract symbols, he juxtaposes personal narratives with reference to occult practices, and with allusions to queer subcultures and aesthetics. Together forming a personal symbology, each work cites or functions as a kind of ritual: pointing to desires and stories, but without ever revealing them, or allowing the viewer to access their meaning.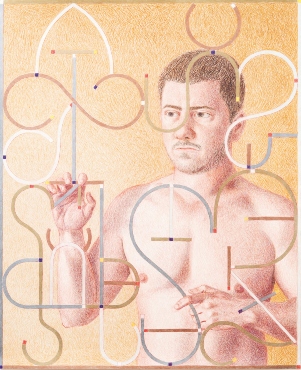 HIPPOLYTE HENTGEN – France
An artistic duo comprising Gaëlle Hyppolyte and Lina Hentgen who have worked together since 2007 on creating almost surreal collages of cuttings from magazines, engravings, postcards and other sources of images. Posing questions about authorship, artistic heritage, taste and collective memory, their works conjure up a universe which is fantastic, absurd, sexual, restless and eccentric, offering unique and unexpected views of reality.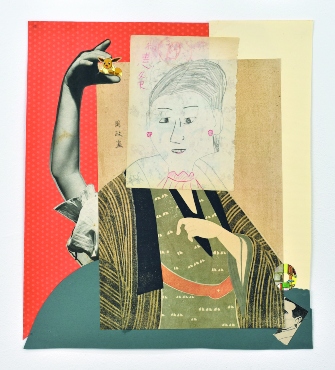 IGNACIO URIARTE – Spain
His drawing practices mostly uses, as media and tools, materials available in a normal office, like those he used for years as a company director: post-it stickers, typewriters, A4 paper, ball point pens. Uriarte has developed a language that seeks to convey that experience in an aesthetic of repeated gestures with a vibrant pictorial appearance.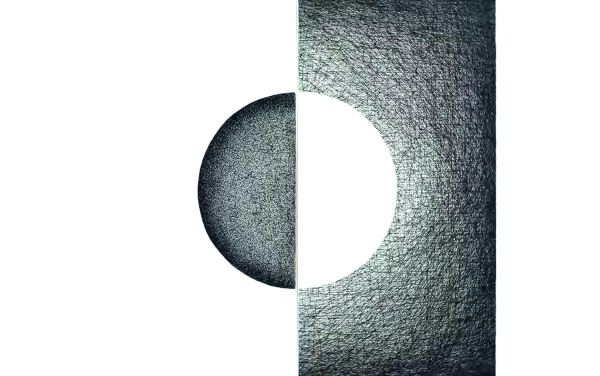 JUDITH HOPF – Germany
Through drawing, sculpture, video and performance, she has built up a body of work that explores human behaviour, as well as social dynamics and codes. She often uses anthropomorphosis on everyday objects, giving them arms, hair, legs or a face, questioning their function and use. By exploiting the absurd, Hopf questions the status of art works.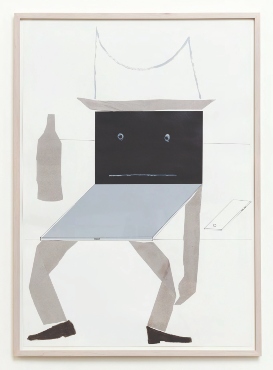 LASSE KROG MØLLER – Denmark
He starts out from the concept of archives to construct a body of work dealing with memory and preservation of the everyday, and on the hierarchies and principles involved in collections. Krog Møller archives ephemeral things, unassuming or apparently unimportant objects, and documents and catalogues them in an obsessive and systematic way, creating collections that poetically and mysteriously question what is or should be preserved for the future history of our time.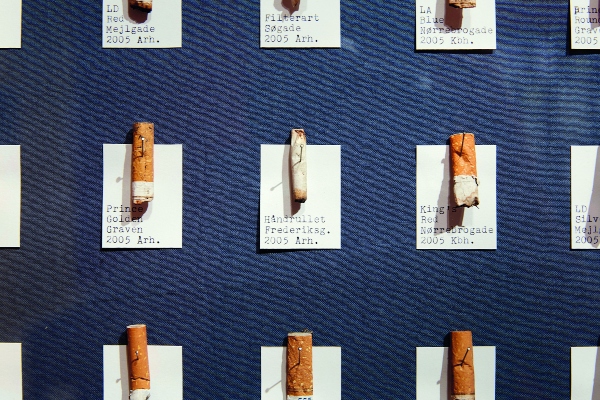 MARIANA CASTILLO DEBALL – Mexico
She uses tools borrowed from other disciplines, such as anthropology, ethnography and history to reflect on how we read, interpret and display non-Western cultures, in particular the pre-Columbian culture of Mexico. Each appropriated object is transformed into a performative element that speaks of culture clash and deletion, encouraging new readings of history, new meanings for the same objects, and encouraging a dialogue between the past and a new narrative of the present.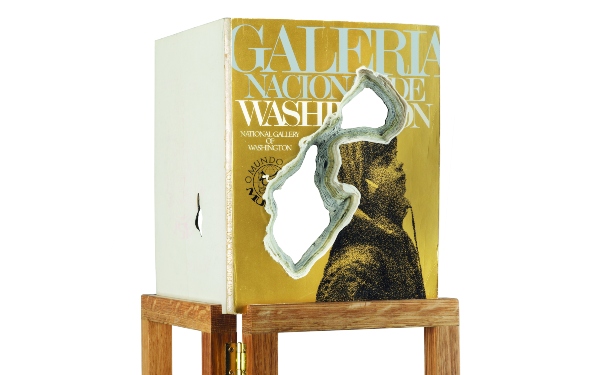 MARTÍN VITALITI – Argentina
He bases his work on exploration of different elements that make up the language of comic strip. By using techniques such as subtraction or addition, Vitaliti not only seeks to place the original, appropriated by the artist, in tension with the new work, but also to take its meaning and history out of context. In his desire to assign new meanings to the language found in the collective imagination, Vitaliti constructs new narratives that rethink the void, disappearance and absence through minimal gestures.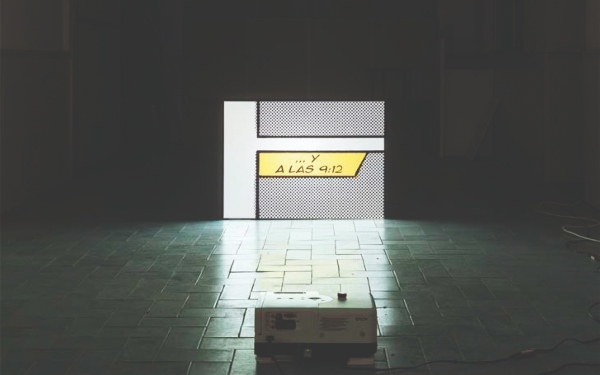 RICCARDO BARUZZI – Italy
He allows line to enjoy special prominence in his work, to the detriment of what the artist regards as the excessive importance normally assigned to the subject or theme. Line as thought, gesture, expression, writing, poetry, rhythm and place of evocation. Baruzzi explores and amplifies the tension on the frontier between surface and the inscribing of marks on the same space, in a body of work in which the idea of incompleteness is crucial.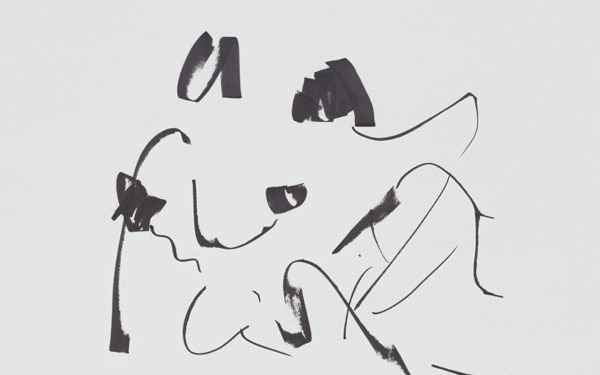 REBECCA SALTER – England
A painter and engraver specialising in woodcuts, combining Western and Eastern traditions in her work. Inspired by Japanese culture, she has a silent and poetic body of abstract work that evokes (physical and climate) landscapes constructed in the inter-play between the marks that remain visible on the paper (and canvas) surface and those which have already vanished.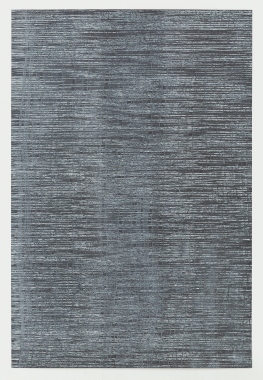 A jury of international reputation
– Claire Gilman, chief curator at the Drawing Center, in New York.
– Jacob Fabricius, artistic director and curator of Kunsthal Aarhus, in Denmark.
– Joana P. R. Neves, artistic director of Drawing Now Art Fair, in Paris.
– Nimfa Bisbe Molin, director of the art collections of the La Caixa Foundation.
– María Inés Rodríguez, assistant curator of the São Paulo Museum of Art, in Brazil.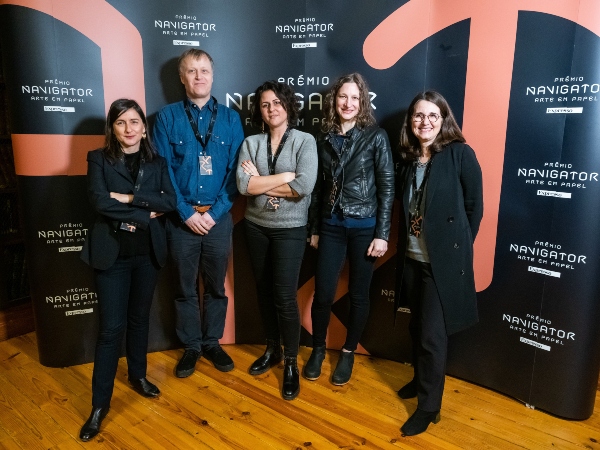 Learn more in www.navigatorartonpaper.com
Follow us on Instagram @navigatorartonpaper