"It's much easier for us to express emotions on paper" – Oupas!,
designers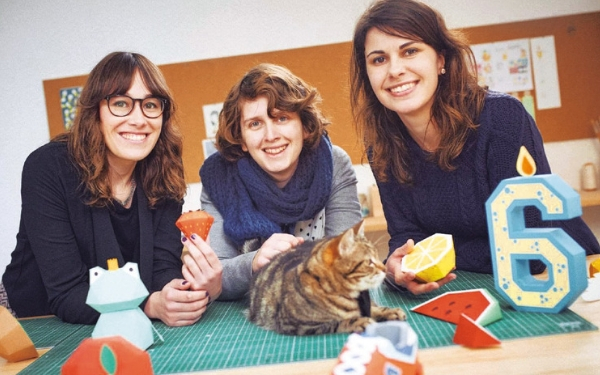 They are graphic designers by trade, but handicrafts using paper have worked their way into their professional lives. This was something they were eager to embrace: they can trace their love of paper back to their childhoods, and their earliest scribbles and drawings. It was a relationship they cultivated over their student years, when their teachers encouraged them to turn their backs on digital media and they learned the joys of making things with their hands.
Joana, Cidália and Sofia are the faces behind Oupas!. In reality, the trio is really a quartet: the cat, Tobias, is their inseparable companion and a full member of the design studio. Serving an international clientele from their base in Porto, paper and cardboard are their preferred raw materials, from which they create everything from small objects to stage sets for events, with an ecological and socially responsible approach.
"Paper is a material that makes a lot of sense for us," says Joana. "The fact that it is easily recyclable is very important, because we create pieces for events that last two or three days, and not all our clients have the option of storing them once it's over. When that happens, there's no problem: it's recycled. We pay a lot of attention to costs, from an environmental point of view, and we try to pass this awareness on to our clients."
The creative process at Oupas! is a circle that starts and ends with paper, as Sofia explains: "The idea starts to take shape on paper, with the first sketch. Then we use digital 3D modelling tools, that help us and the client to visualise the piece. And lastly, we return to paper, working with our hands to materialise the idea."
"Paper is so rich in textures and colours, that sometimes just this encourages us to draw, to work with it," says Cidália.
"Paper makes things more real, more authentic. The stakes are higher, you have to weigh everything up more carefully, because it's more definitive," adds Sofia.
A world without paper? They can't see it. "Paper is so natural for us, we'll never stop using it. We can rethink how we use it, but that won't lessen its value, on the contrary: special things will continue to be done using paper."
<destaque/legenda> Ideas start to take shape on paper, in the first sketch, and then return to paper, in the form the client wants
"I design my dishes on a blank piece of paper" – Kiko Martins, chef
Kiko Martins swapped marketing management for a new life as a chef, but he won't trade in his paper diary for a mobile phone. The chef – who visited 26 countries in 14 months, to absorb as much as he could of their cultures, that today inspires his cooking – told us how paper has a central place in his life. "Despite all the diary and organisational apps and software I have on my phone and computer, I still use a blank sheet of A4 to think out my dishes, to 'design' the different elements, and I also can't do without an actual diary to write down my schedule and what I'm delegating from day to day", he told us.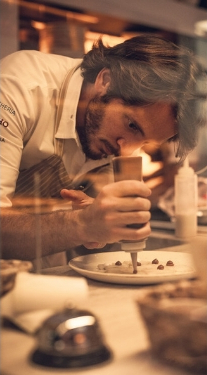 At the age of 40, Kiko Martins has embarked on a life of adventure. After graduating in marketing in 2003, he headed for Paris to study at the Cordon Blue cookery school, and in the succeeding years worked at some of the world's most famous restaurants, such as Ledoyen (Paris) and The Fat Duck (Berkshire, England). He did a year of voluntary work in Africa and, in 2011, decided, with his wife, to travel the world to absorb the flavours and secrets of the planet's best food. This experience resulted in a book, Comer o Mundo. A book printed on paper, like those he enjoys reading. Now the father of four, he manages eight restaurants and oversees a staff of 250, whose job is to offer customers the dishes that Kiko himself dreamed up and created.
His relationship with paper is strong and enduring, but Kiko Martins admits that the world of technology has inevitably made changes to it. For example, he has noticed that he has less appetite for writing and that he has neglected his handwriting since he started entering his recipes in his computer and mobile phone. But paper is still a daily habit, for drawing and thinking out his recipes: "It's part of my creative process, above all at the design stage, when I sketch the dishes, from a more gastronomic and organisational point of view. It's how I work out the relative importance of the different elements. I use a lot of tree charts – deciding what is the fruit, what makes up the trunk, the structure, and I think about this and organise it all on a sheet of paper. And the kitchens themselves and other areas are all designed on paper, it's vital to have it as a tool."
"Leafing through a book is a journey through aromas" – Lourenço Lucena, perfumier
He's a teller of aromatic stories, and he uses a paper notebook to record the aromas and formulas – the characters and the plot – that later come together to make a perfume, with its unique and personal features. Lourenço Lucena is a perfumier and the only Portuguese member of the Société Française de Parfumeurs, the prestigious French club of the world's leading designers and perfumiers.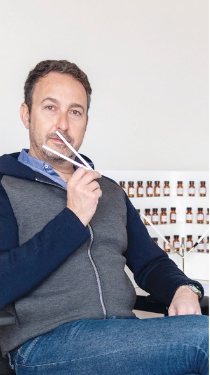 It all started in 2005, when he decided to enrol at Cinquième Sens, the perfume school in Paris. He completed his training in two years, and in 2017 he launched his first perfume – Acqua di Portokáli –, a fragrance that pays tribute to Portuguese oranges.
Despite the invasion of our lives by digital media and our dependence on smartphones and tablets, the perfumier believes that human beings relate to each other and with the world around them through their connection with the physical, sensory universe. "Leafing through a book, for instance, using our sense of touch and feeling an object in our hands, using our sense of smell to take in the scent of paper, is something that makes us feel truly human and alive. The digital world lacks the same capacity to lift us up," he says.
Whenever he creates a perfume, Lourenço Lucena tells a story. The story – which might be about a person, memories of a journey or even a tribute to an emotion – is written down by hand on a piece of paper. "That's my starting point, discovering the story. Then my work involves finding the raw materials which, when combined, enable me to translate the story into fragrances. It's a complex task, because when you create a perfume, you write down and test out dozens and dozens of formulas until you find the right one."
Finally, when the perfume is ready, the paper you find in perfume shops, ready to be sprayed, "are neutral vehicles, with no significant odour, that let the customers experience a wider range of perfumes than if they used their own skin." So, in the magical world of perfume, "paper is something that facilitates the process of choice", but is also an essential tool, because "paper is highly absorbent, and has an almost neutral odour of its own, meaning that the fragrance of the perfumes lasts much longer."
<destaque/legenda> In perfumery, paper is at once a tool and a way of helping customers to choose
"Paper is where it all starts" – Gracinha Viterbo, interior designer
It was during her childhood that Gracinha Viterbo discovered that a ream of white paper and box of coloured pencils held more fascination than any toy. Seated at a table in the living room, she would let the pencils work their magic on the blank sheet, watching in fascination as the drawing came to life. Under the watchful and encouraging eye of her mother, the iconic interior designer Graça Viterbo, in whose footsteps she decided to follow when just ten years old.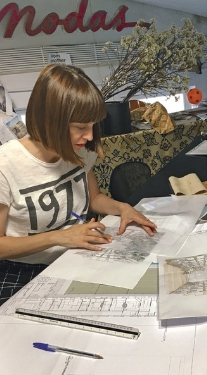 She says the word she likes best is "empty", because it's "where it all starts". With canvases and brushes to hand, Gracinha has spent her life cultivating the pleasure of starting something from scratch on a blank sheet of paper. "The pencils or pens scattered on the table offer infinite possibilities of 'making it happen', of being creative. I remember the first time I applied colouring outside the lines and my mother said it was perfectly OK: I think my eyes must have been shining, because I've never stopped colouring outside the lines", she tells us.
Aged 14 or 15, with her mother's studio at her disposal, she looked on in pure delight as the magic of creation brought something out of nothing. "When I start a project, there it is: an empty, white sheet of paper. For me a white sheet of paper is the start of everything; for my projects, it's always the sign that something is about to happen," she says.
Today, Gracinha, a mother of four, manages Viterbo Interior Design. She loves travelling and using the food, textiles and culture of certain places as a source of inspiration to which she returns over and over, for the spaces she creates She sees each order from a client as a story that deserves to be told by creating something personal and unique.
A compulsive creative and chameleon, Gracinha has her own unmistakeable style – everyone knows her by her turban. She uses technology for her original and irreverent creations, and also to keep up with her three studios, in Portugal, Angola and Singapore. At home in three continents, this adventurous designer tells us "the world may be going digital, but nothing can take the place of a sheet of paper which can hold a universe of ideas, and it's real, physical, you can draw on it and design ideas and concepts that one day will become someone's reality."
<destaque/legenda> A blank sheet of paper offers the infinite possibilities of creating, of making things happen
"My scores are full of my scribbles" – Pedro Amaral, conductor
A conductor has to bring the composer's work to life, faithfully following the score, but with a certain margin for interpretation. This margin, which each conductor defines for himself, is clearly marked on the score, before reaching the hands of the orchestral players. "When I study a score, I try to bring out the indications left by the composer himself. What I can do is shape the sound, choose to take a faster or slower pace, adjust the tempi and dynamics", explains Pedro Amaral, conductor and artistic director of the Orquestra Metropolitana de Lisboa. "That means that paper is really important for my job, because it's what gets the information to the players. My scores are scribbled all over with signs and markings."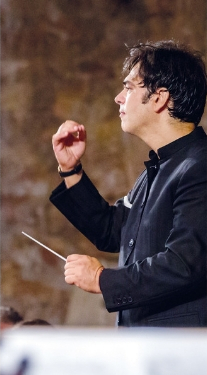 The score of each work presents the musical composition in a written code. All the markings that Pedro Amaral makes are copied out and distributed to each of the players. The annotations, which can be scanned, also serve as a visual reminder to lead them through the pieces, and everything starts at the rehearsal stage. "Although I use musical notation software, I make all my annotations by hand, because the process leaves a physical memory of how I arrived at a given result. All the preparations in rehearsal are also done on paper. I use A5 sheets folded in half and that's how I structure the rehearsal into items, like a to-do list," explains the conductor. When he walks on to the stage, most of the work has already been done in rehearsals. Even so, on the day of a performance, Pedro Amaral goes through the whole concert in his mind, never forgetting that the conductor has the first and last word on everything that happens on stage,
Pedro Amaral was born in 1972 and is one of the leading European musicians today. He was accustomed to hearing classical music from an early age and was a private student of Lopes-Graça. He went on to graduate in composition from the Escola Superior de Música de Lisboa and took his Master's and doctorate in twentieth century music in Paris. He appears regularly at leading music festivals and works with orchestras in Portugal and abroad. As a composer, he premiered his first work in 2010 – O Sonho –, concerning the biblical figure of Salomé, inspired by an unfinished dramatic text by Fernando Pessoa.
<legenda/destaque> The hand-written annotations show how the conductor will interpret a given composition